Pre-Pay Online
♥ Order 2 weeks prior to Picture Day and up to 1 week after picture day.
♥ Receive discounted pricing on packages.
♥ Images are NOT available for viewing.
♥ Pictures will be delivered to school.
Late Orders
♥ Orders received 7 days after original shoot date.
♥ Not All products and packages are available.
♥ Pricing adjustment for products.
♥ Pictures delivered to your home.
Shop Online
♥ Order more Pictures
♥ Unique Product and Collectibles
♥ Great Products for Holidays and Special Events.
♥ Products shipped directly to your home.
♥ Call our office with any questions 281-346-1999
TRADITIONAL PHOTOGRAPHIC PRODUCTS
From MemoryMates to magnets, buttons, groups, individuals and more, let us create awesome custom products for your team, league or school. We look forward to working with you.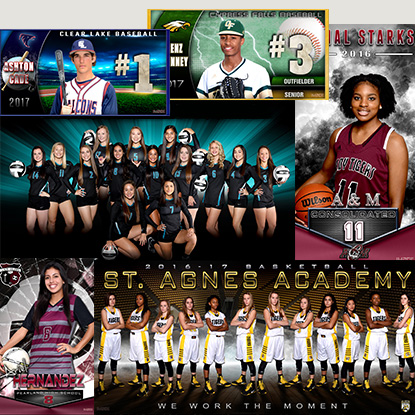 VINYL SPORTS BANNERS/TEAM POSTERS
A great way to display your team, featured players with custom Vinyl Sports Banners! We will design and print to create an impressive display on your field or in your athletic facility.